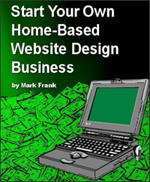 OK - you know how to make great looking web pages, now wouldn't it be nice to use your skills to make some real money designing websites? You're right - it is nice! My name is Mark Frank. Since 1999 when I started Sunrise Designs, I've been working at home and running a my own website design business. But, there were a lot of things I never considered when I started - crucial business secrets that I learned the hard way.
A few examples:
How to find work - how to get the right clients - the ones who are happy to hire you
What crucial questions to ask each client in order to save hours of work and make clients so happy that they refer others to you
How you'll locate and work with subcontractors
How to set rates that allow you to stay within the client's budget and still make a profit
How to find the most relevant slice of the market for your own interests and skills - and to find the "low hanging fruit" in those niches - those clients who will be so eager for your services that they'll come to you
How to deal with requirement that change after you have started the job
There's lots more! I took all my years of experience, looked the problems I faced, and wrote the book I wish I'd had when I was starting up my web design business. The book is called Start Your Own Home-Based Website Design Business.
What this book won't tell you is how to design and build web pages. There are lots of excellent resources if you want to learn HTML, XML, JavaScript, and Flash - but those books don't tell you how to start and run Your Business!
This book is about the business side of running a website design business - absolutely crucial information you need to turn your design skills into a profitable home based or full time business.