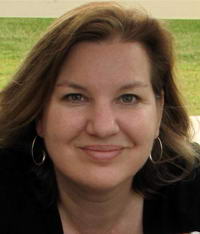 (Many thanks for her time and effort.)
For nearly a decade I tried to get novels published without any luck at all. And then my luck changed. Or maybe I should say, the world of publishing changed. Someone invented the Kindle and in spring 2009 I heard that writers could upload their manuscripts to sell as ebooks. I liked the idea of getting my books into the hands of readers and making some money besides.
Perseverance Pays Off for Karen McQuestion
I uploaded six of my books, and marketed them online. My timing was good, and readers were kind enough to recommend my books to others on the Amazon message boards. An L.A. producer looking for projects saw the comments (he called them "buzz") and optioned one of my novels, A Scattered Life, for film. An editor at Amazon's new publishing company, AmazonEncore, heard about the movie deal and wound up signing that book, and all my others as well. Two of my books are now published in paperback by Houghton Mifflin Harcourt. Today I make a living writing fiction.
Am I lucky? Yes, absolutely. The stars aligned for me, no doubt about it. But a good part of my luck had to do with perseverance. I didn't give up when the first novel didn't sell, or the second, or the third or the ones after that… I'm not sure if I was delusional or just optimistic, but I always felt that at some point I would break in. There was no way I could have foreseen the advent of digital publishing, but when it happened I had manuscripts ready and I was willing to figure out how to upload and promote them.
Some writers think the golden age of ebooks has passed. That I had it easy because there were fewer books back then, and thus, less competition. They have a point, I'll admit, but I can't help but feel that patience and perseverance still have their value.
With digital publishing, books never go out of print, so writers have plenty of time to improve their craft, market their books, try a new genre, or do whatever else they want to do. It's just a matter of keeping at it.
Perseverance Advice from Karen McQuestion
If you've self published and aren't seeing sales, go back to basics. Reassess your story, cover, formatting, and book description. Don't be afraid to make changes, if need be. Ask others for advice or help if you're truly stumped. The Writer's Café at Kindleboards.com is populated by authors who generously share their knowledge and experience. There's a wealth of knowledge online.
Most importantly, don't give up. A lot of deserving writers and books don't get their due, but the odds improve with more titles, and more promotion. Sometimes it takes time, years even, but believe me, when you find your readers, you'll know it was worth the wait.
Karen's Bio:
Karen McQuestion writes books for both adults and kids/teens and is a bestselling author in Kindle. Two of her novels placed in the top 100 Customer Kindle books for 2010, based on sales and reader reviews. Her novel, A Scattered Life, has been optioned for film. Originally self-published, she now writes for AmazonEncore and Houghton Mifflin Harcourt. Ms. McQuestion (really her last name) lives in Wisconsin with her family.